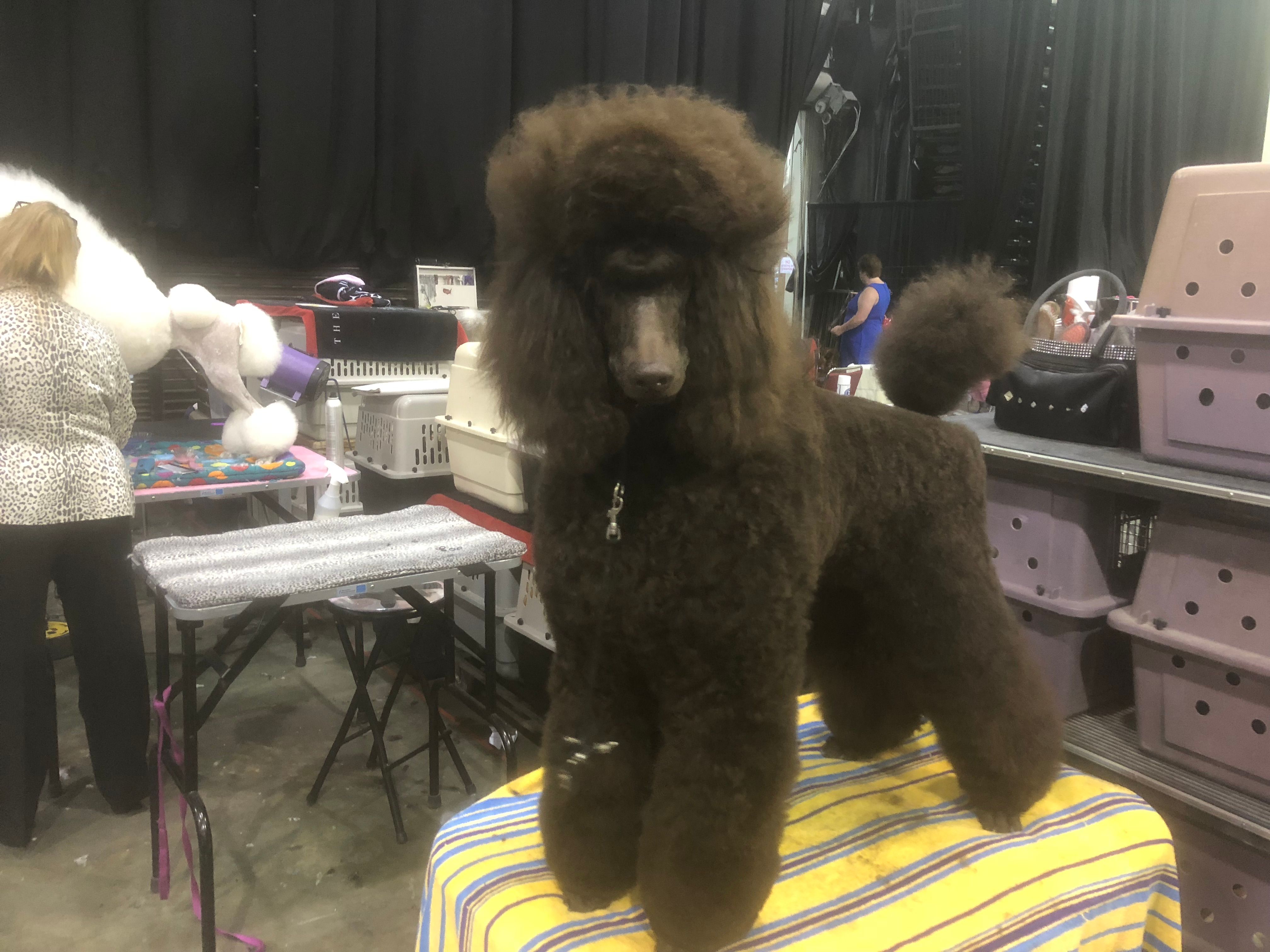 Cadeau Rite of Passage
"Cocoa"
GCH Magic Hour's Franchise Prodigy x Saratoga Honeymoon in June at Cadeau
DOB 11/10/2017
     You may find this hard to believe, but the consensus here at Cadeau is that we haven't a puppy this precious since Lil Bit or this sweet since Giselle. That's not to say we haven't had oodles of adorable poodle puppies, but every once in awhile, a pup comes along that is just special. Special might mean different things to different people. To me, it is the combination of temperament and structure that makes a puppy a winner in both the ring and in the home. That is always my goal! What makes Cocoa's temperament precious is the cutest mix of silly, happy, cuddly, curious, friendly, smart, and obedient. Cocoa is one of a two puppy litter out of my brown girl Juno and fellow poodle enthusiast Becky Godbey's lovely brown AKC grand champion, Roddenberry or Rottenberries as she calls him. I had the pleasure of spending time with Rod on multiple occasions, and I just loved his easy-going temperament. Juno comes with a little more energy, but she is super smart and has a lot to offer.
     Cocoa was owner handled as a pup at a couple of local shows, but in the prime of her puppyhood, we lost our beloved handler Sherri to Addison's disease, and Cocoa did not get shown as planned. I trekked on with coat maintenance as she turned a year and the dreaded coat change happened. I faithfully washed, dried, and banded her twice weekly until she was about 18 months old, when I finally decided to throw in the towel. Cocoa has been sleeping in my bed for too long now to send off to a handler. I know she would receive great care, but I feel she would not thrive on the road because we have spoiled her too badly. It's easy to do! She also did not quite mature structurally with the promise she had as a pup, and remains very light-boned, refined, and petite girl at 36lbs. I am not yet sure whether she will be bred, but she has her forever home right here. She is the perfect size for cuddling and we absolutely adore her.