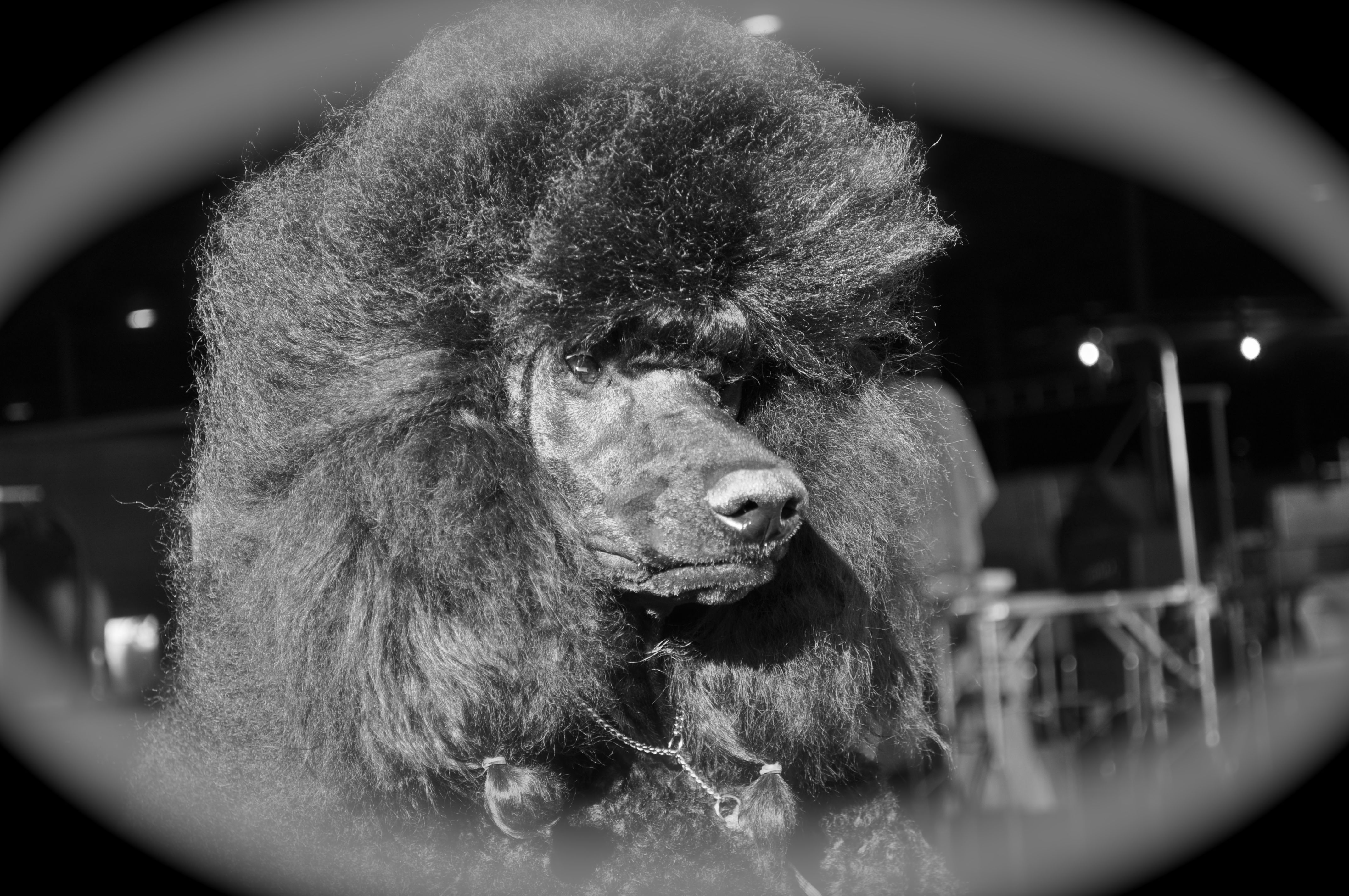 Cadeau Midnight Rendezvous, CGC (pointed)(retired)


"Giselle"


Dazzlewood Exact Change, CGC X CH Luminary Xtreme Dynamite
 10-30-2010 - 4-29-2018
 
Giselle is a very special poodle. She is my first home bred show puppy, and I kept her to show, as she is most in temperament like her amazing mother Comet, plus she has the same great build:  tall with a nice front,  prominent shoulder assembly, tight, compact feet, cute little tailset, and beautiful front and rear angulation. I picked her out at birth as my favorite and most balanced looking puppy, then I had the litter evaluated by 2 experts and both chose the same puppy for the top pick!

I really had put all of my hopes into this little girl. She was easily winning out of the puppy class in conformation and was 1/3 of the way to her AKC Championship after only a few weekends in the show ring when tragedy struck.
 
Giselle went from being a happy, energetic, and playful girl to one who would not get up from the dog bed in just over a day's time. After a long night of continued vomiting, I showed up at the vet office with dread in my heart. Having gone through a diagnosis of Addison's disease with my 1st purchased show poodle, Margot, just a few months prior to this, I knew the signs and symptoms all too well. Despite my fervent prayers that I was wrong, my vet informed me that Giselle, too, like her unrelated friend Margot, was afflicted with Addison's disease.
 
Her illness  is now under control with medication. She has been retired from the show ring, spayed, and placed in an incredibly loving home where she works as a children's therapy dog bringing joy and love to all those who meet her. She has earned many certificates in her new home, and takes her job of teaching the "Ruff Readers" quite seriously. She can often be found surrounded by children who are learning to read, bounding in the snow, or watching over her smaller housemates. Giselle, like her dam Comet, is also one of the greatest temperaments I have ever known.
People often ask me why do I still keep Giselle on my website and this is why:

Giselle went to an exceptional home. Giselle has an owner who truly treasures her and is taking her places that I always wanted her to go. Her new mom, who is active in Japanese Chin Rescue, wanted a larger companion for therapy work. Giselle fit the bill perfectly. I knew that the sky was the limit with her temperament. She is just such a sweet, accepting, loving girl. She immediately obtained her Canine Good Citizen, following in her canine mother Comet's footsteps. She is also a certified member of Therapy Dog International and makes frequent appearances during children's reading days at the local library. She has even accompanied the firemen when they visited the school. Giselle loves children and people of all ages, sizes, and shapes. She is a true ambassador for the the breed. The reason I kept her on my website is because I am not ashamed of her. I am proud of what her owner has done, in spite of the odds being against her. As a responsible breeder, I do everything I can to ensure healthy puppies and excellent homes, but I live in the real world. Addison's and other autoimmune disorders are not predictable.. Due to the heavy inbreeding of standard poodles over the years, a lot of immune diversity has fallen by the wayside. I am an active member in research groups and The Standard Poodle Project. We are trying to scoot out of the bottleneck, but there is a lot of work to be done still. Meanwhile, we must still accept responsibility for these beautiful dogs.
Most importantly, a poodle with an autoimmune disease can still have a very lovely and long life. It does not have to mean "THE END." 


Giselle has passed the following health screens:

Orthopedic Foundation for Animals (OFA) Preliminary Hip Screen - Good Rating

Canine Eye Registry Foundation (CERF) eye exam, 2010 - Normal Rating

Orthopedic Foundation for Animals Cardiac Certification - Normal
 
CH. Teller's Funny You Should Ask

CH. Ascot Balenciaga at Greenwyn

CH. Absolute Fascinating Rhythm (blk)

CH. Wycliffe Quantum Leap (blk)

CH. Absolute Fascinating Rhythm (blk)

CH. Wycliffe Quantum Leap (blk)

CH. Martaux Ansel Adams By Jove (blk)

CH. Tiara Ultra Knight CDX (blk)

CH. Wycliffe Hither and Yon (blk)

Bay Breeze Dear Abby (blk)

CH. Martaux Ansel Adams By Jove (blk)

CH. Rimskittle Quick As A Wink (blk)