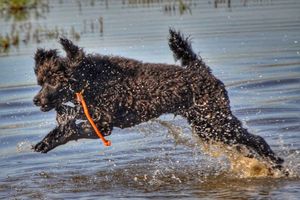 Olivia de Grenier, RATI "Olivia"
DOB 10/20/2018
UKC CH Gaston de Grenier x Felicia de Grenier
Olivia came to Cadeau in April 2019 from Poodles de Grenier. I am excited to add this element of genetic diversity to my breeding program! Olivia de Grenier is power, brains, beauty, and sass in a dynamite little package. It appears that she is going to be blue, but color testing revealed that she will also produce brown! She is what is known as a "genetic outlier," which means that she is unrelated to the majority of the poodle population that has registered their DNA through UC Davis' VGL test. I took a leap of faith, and am having SO much fun with Olivia. She does have a natural tail, so no AKC conformation ring for her (I assure you, she is quite finishable in AKC!) Instead, we will focus on some other fun activities. She has shown not only a great affinity for water and a natural retrieving instinct but a working, problem-solving mind. She is super cuddly, very, very smart, and learns REALLY quickly. The sky is the limit performance-wise.
I really didn't quite know what to expect when I first bit the bullet and agreed to Olivia, but I am SO very grateful for the opportunity to own such a cool poodle! She came into my home with tail up, and I don't think I've seen it go down yet. She is brave, confident, social, sensible, and obedient - just the mix of poodle traits I LOVE! I am very excited to have Olivia here and look forward to seeing her blossom as both a performance animal and an addition to my pack. She's quite awesome.