Click on the drop-down menu for specific information about each of my wonderful Standard Poodles.

Our poodles live and sleep inside and are treated as members of the family. Adults and puppies are extremely well-socialized and taught manners from their first day here. Grooming, cuddling, and socializing start in the whelping box. As the puppies grow and mature, they are introduced to a variety of safe people, places, situations, and other animals to ensure a confident, well-balanced dog.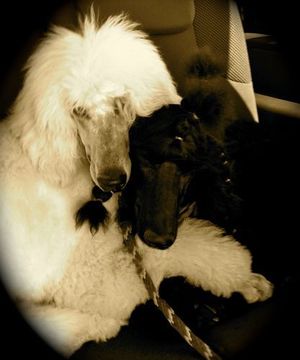 We do not believe in intentionally breeding dogs that have not passed health screening. Cadeau poodles are tested and cleared prior to ever being bred. For more information on health ailments common to this beloved breed, click on "Links We Love."  We routinely xray hips for dysplasia at 2-3 years prior to breeding, CERF eyes yearly, check thyroid function with OFA thyroid panel, test for von Willebrand's bleeding disorder, and other health screens as appropriate. In 2015,The Veterinary Diagnostics Laboratory successfully engineered a genetic diversity tool specifically for standard poodles. We are proud to have been part of the research efforts and Cadeau Poodles all sport a VGL Diversity Profile now as well! We carefully research and match pedigrees of dogs to complement one another in conformation, health, trainability, and temperament. This does not guarantee that they will never have a problem, but it certainly minimizes the risk. Research is being conducted every day to pinpoint markers for health issues, as they are a concern in all dogs at this time. Additionally, we are an available resource for you and your Cadeau poodle for life. All Cadeau Poodles have a lifetime "return policy". Education, integrity, and availability are some of the ways we keep these amazing animals out of shelters and rescue.

Our poodles are fed a high-quality premium diet and often enjoy fresh meats and vegetables. We believe that excellent nutrition complements immunity. A well-bred, well-nourished, well-exercised, and well-groomed standard poodle should enjoy a lifespan of 10-15 years, with smaller varieties living even longer.