Background
I will start by saying that I have been wanting to be a breeder since I was a child. Never have I had this passion so intensely and long-lived in any of my many ventures. My first (and only) "oops" litter occurred when I was 11 years old. I know, not really my fault, but in those days, our beagle "Baby" lived outside in a dog house, and a neighboring rover I called "Benji" got her through the fence. Baby was spayed after I raised and placed her five precious pups with family and friends. My grandparents raised German Shepherds and Collies. It's in my blood.

Animal Shelter Days
As a teenager, I volunteered at our local, high-kill animal shelter. I put in a full time schedule and witnessed the daily euthanasia of countless dogs, cats, puppies, and kittens - all temperaments, sizes, and ages. I attempted to educate everyone on responsible pet ownership. The control officers loved the animals. It made them cry on many occasions to put down perfect animals, but I never blamed them. It was the lack of knowledge and education of the general public that was responsible for so many needless deaths.

Pet Store & Rescue Days
In my late teens/early 20s, I rescued numerous animals of all breeds. I would easily take in whole litters of kittens, get them well, and place them. Ironically, I also worked at a pet store that sold puppies. My title was "Pet Counselor." I really enjoyed talking to new puppy owners about aspects of training, teething, housebreaking, socialization, and more. I always checked on my puppies after they went home. The sad thing is that these puppies came from a large commercial breeder out of state. They were adorable "mixed breeds" and some purebred. We sold them with a one year health guarantee and no pup left the store without a thorough vet examination. The extremely large majority of these puppies had health issues as early as 9 weeks of age. Some were minor and others more severe. Between my side hobby as rescue and rehab and my paying gig of pet counselor, I knew one thing was clear: I wanted healthy dogs, and I never wanted them to end up in an animal shelter. Additionally, I would preach responsible pet ownership to anyone who would say "Amen."

I take the intentional breeding of animals very seriously.

I am a registered nurse. I support my animals - not the other way around. When I am not caring for the infirm, I am sleeping, living, and breathing poodles. I am also a certified dog trainer through Animal Behavior College.

Cadeau is the kennel prefix for my small breeding and showing program located in New Orleans, LA. When I acquired my first wonderful standard poodle, Comet, in 2005, I became smitten with the breed and impassioned with a desire to produce a better quality standard poodle locally. I learned about AKC conformation showing, participated in agility for fun, and joined an obedience club. Over the years, I have followed the stars in this amazing breed and met some wonderful people along the way. I look forward to a future with healthy, wonderful, even-tempered, loving, trainable standard poodles.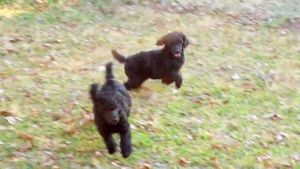 Member in good standing of the following clubs:
Riverside West Kennel Club of Greater New Orleans

Deep South All Breed Obedience & Training Club

Louisiana Kennel Club

Creole Poodle Club of New Orleans
When I first started poodle shopping, I was disappointed in many of the places I visited. Puppies were skittish, faces tear-stained, eyes runny, breeders with 3 litters on the ground at once, dams still nursing puppies with breeders already planning her next litter 6 months away, no health testing on parents...I made a goal to eventually start my own line of Poodles and introduce more quality to the New Orleans, LA area, but I couldn't find a nice dog locally.
There were a lot of breeders would sell a puppy on limited registration for one price, and full registration for another, who didn't seem to care at all about what my intentions were for their puppy. That bothered me.

I found tons of information online. I wanted to make sure that I was buying a puppy that would not cost me thousands of dollars down the road in health problems – a healthy specimen, correctly built, with the temperament and trainability that all the books said Standard Poodles were supposed to have. I also wanted a resource- someone who would be there to answer my questions and guide me on training, grooming, and more. I really lucked out when I found Edith & Dan Coradazzi of Dazzlewood in Virginia. They sold me my wonderful girl, "Comet" who I named Dazzlewood Exact Change, CGC.

Experiencing the joy of owning such a well-bred dog fueled my desire to breed. As I started getting Comet out in the community, I realized what a treasure I had. I had many handlers go over her and started taking her to puppy matches and handling classes. Just as things started taking off, Hurricane Katrina wrecked New Orleans, flooding my home with 9 feet of water and destroying everything I owned. I managed to maintain show coat on Comet in spite of the circumstances.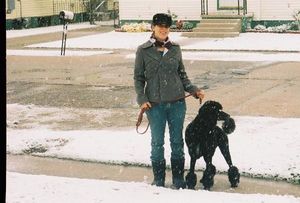 We entered our first show in Pensacola, FL in 2006 and went reserve winners – not bad for a young girl who had not been shown. Unfortunately, my grooming mentor and handler,  Meg Wood, moved to North Carolina and was not able to show Comet for me. I made the very, very difficult decision to shave her show coat off. Finishing her did not seem close at hand. Since the "rebirth" of my passion in showing, I feel that I have reached a point where I can pick up and chase my dream again. I now have multiple finished AKC champions, AKC Grand Champions, and homebred champions, plus a growing number of successful, owner and junior-handled show pups that are beating specials out of the classes - no small feat! While I am enamored with showing my dogs, it is not always sunshine and rainbows. Immersing myself in the world of poodles has been a ride, nonetheless, and I am sincerely grateful for every wonderful friend I've made along the way. I will continue to work with these majestic dogs and enjoy their presence in my home. My family said goodbye to our wonderful poodle, Comet, in 2018.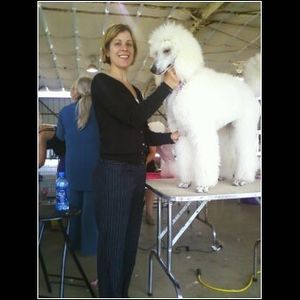 These dogs are my treasures and I am very proud to play a role in the preservation of this magnificent breed. I remain in touch daily with some of the best breeders, handlers, exhibitors, researchers, veterinarians, and friends. Those who have my puppies as pets know that I consider them family! All inquiries are welcomed, any time.