Please contact me if you are interested in becoming part of the Cadeau family. 

Companion puppies are sold on spay/neuter agreements. They will go to their new homes current on age-appropriate vaccines, parasite-free, socialized, accustomed to regular grooming, and microchipped. Dew claws are removed or left at my discretion, and tails are docked on the lengthy side to ensure a balanced outline as we do keep show picks, and the breed standard requires a docked tail. 
 
I provide a written health guarantee and copies of parents' health testing, along with a shopping/training manual, recommended groomer (if local) sample of food and toy/chew item. Your puppy will be freshly groomed by me in the traditional poodle puppy trim, unless requested otherwise. Pups are raised indoors. I do not have a kennel. All of my animals live with me and share my home. Puppies are born in my bedroom, where they stay until they are too big for the whelping box- usually about 3 weeks of age. I then move them to a larger dog room- a part of my home that is attached to a covered patio. House training begins when the pups are approximately 4-5 weeks old and can follow me outside all together. I make every effort to get them accustomed to regular grooming and pottying outdoors at a young age. Baths are usually weekly. I trim nails every few days and use a clipper on the puppies' faces, feet, bellies, and sanitary areas. This is a wonderful learning experience for them, and they learn to adapt to grooming from the start in a safe and stress-free environment. I personally enjoy this time with my puppies and encourage all new owners to learn how to do basic maintenance. Start early!
 All potential families will be interviewed prior to accepting a puppy RSVP. This is to ensure a perfect fit with your new puppy. Puppies are given a modified Volhard temperament evaluation at 7 weeks and a structural evaluation at 8 weeks. I choose my keeper puppy after the structural evaluation, and the rest are matched to the waiting families. I am very good at process, as my puppy families can tell you. I really enjoy video'ing, photographing, and playing with my puppies, as do my kids, friends, and neighbors. It is a privilege and a joy to have this experience.
***We do not have any litters planned for 2020 nor any adults available.***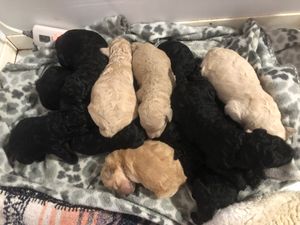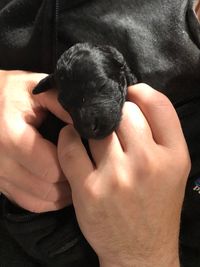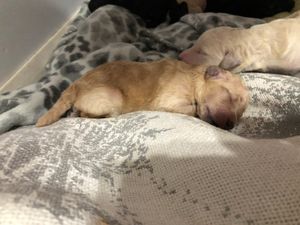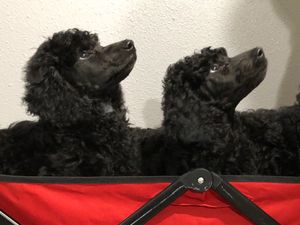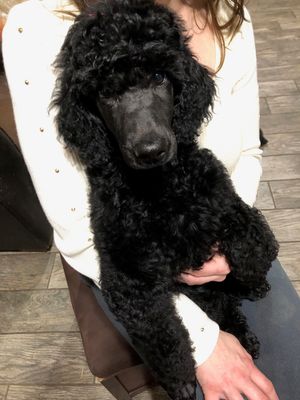 If you are interested in becoming part of our Cadeau Poodles family, please fill out the puppy application and return to me. I will also be happy to review application over the phone.
C
adeau Poodles Puppy Application
 Visit the
blog
 or our
Cadeau Poodles Facebook page
for regular photos & "pupdates!"
I occasionally have standard poodles available to local guardian homes or retired adults to forever homes
. I have placed retired show dogs into exceptional homes where they are amazing companions working on obedience and therapy titles. This frees up my household to raise the next generation and also gives those sweet adults the chance to be in a smaller pack and reach their temperament potential- not to mention the level of joy they bring to their new families!
Please use the
contact
 link to reach me.
Email is preferred.
Please be patient. I respond to all inquiries and will be happy to help you find your perfect poodle companion. Currently, If I do not have what you are looking for, I will refer to breeder friends. We are all working together in the poodle community to stomp out bad breeding practices and put puppy mills and backyard breeders out of business.
View the drop down link located under the "
Puppies
" tab for more information on breeding philosophy and practices employed by Cadeau Poodles. 
We are tremendously enjoying our pups from this latest litter as they are bright, gorgeous, and robust with outstanding temperaments. 
Thanks for visiting!