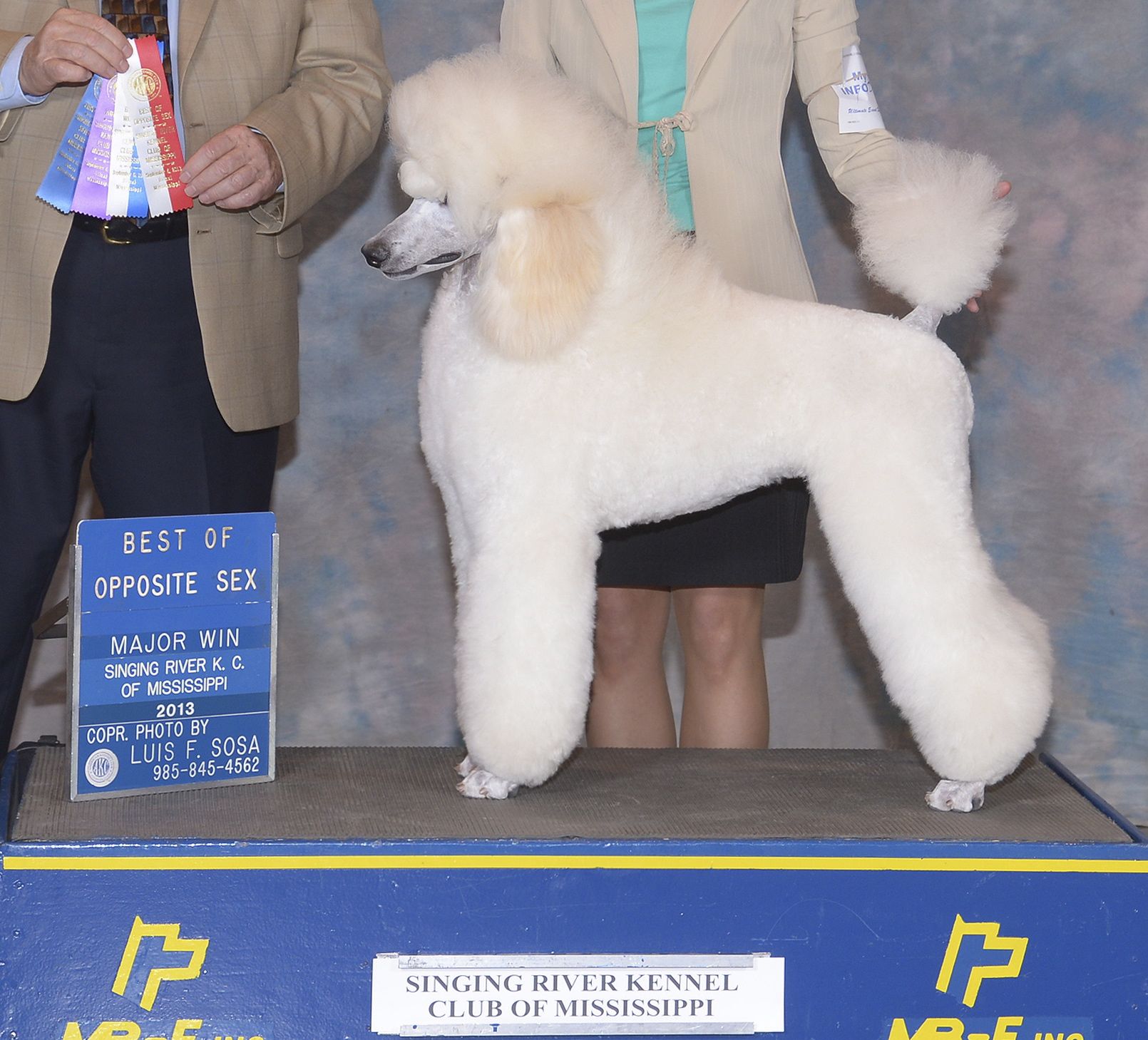 CH. Olympia La Dame Aux Camelias
"Camille"
CHIC#105773
(MBIS Ch. Allure Ormar No Regrets x Admiration Charmed, I'm Sure)
10/16/2012 - 10/2/2018
     When friend and artist Lucy Tyler of PA announced her litter of all white standard poodle puppies, I was very happy for her. There was one who kept catching my eye. I could see promise in her gorgeous little face and agreed to bring her to New Orleans with a little persuasion from Lucy. I showed her once at 6 mos to break the ice, and she took reserve winners two out of the four days. She was shown again at 10 mos and took Best of Opposite Sex to Best of Breed for a 4 point major out of the Open class, still in puppy trim. At 20 months of age, I sent her to professional handler Sarah Perchick, and she was a finished champion just 14 calendar days later! She had a ton of confidence, a great dose of naughty, and a beautiful, sweet temperament. She was one of the first poodles to see about me when I was feeling down. She was a very bright problem solver. I just loved this pretty girl! She quickly became a favorite with my children and was well-loved by all of the dogs. Camille was very outdoorsy and never turned down a trip to the park or a run along the Mississippi River.
Camille survived a scary canine GDV/Bloat/Torsion occurrence on 8/7/18. Her story is helping to raise awareness of the "boogeyman" as the face of a viral Facebook video on symptoms of bloat/torsion.
*On 10/2/18 we lost our wonderful girl to very sudden and aggressive liver failure. She was being worked up for pancreatitis while waiting for her blood work to come back. Her liver levels were over 3000 when normal is 18-135. Camille went jaundiced from head to tail and was quickly taken back to our vet clinic for hospitalization, where she passed away early in the morning. Our hearts are broken. Results of necropsy to determine what took her so swiftly were inconclusive. We are still struggling with the loss of one of the most precious poodles that ever graced our lives.
Camille passed the following health screens:
CERF 2013, 2015, 2017 Normal

Neonatal Encephalopathy - Clear

Von Willebrand's Bleeding Disorder - Clear 

OFA Thyroid Panel 2015, 2017 - Normal

OFA Hips -Good

OFA Sebaceous Adenitis 2015 - Normal

VGL Certificate Available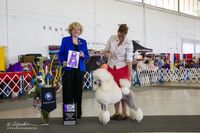 1997/10/17

"Colin" photo credit litilannspoodles.com Best Stud Dog PCA National Specialty 2003 Sire of Multiple Best in Show winners in both the United States and Canada Top Producer of 23 American Champions and Counting