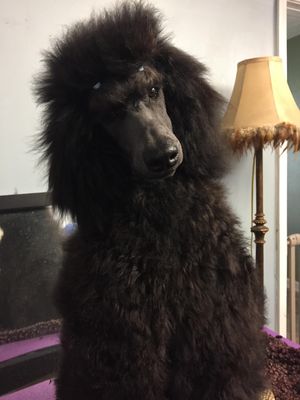 CH Lakeridge Cadeau Devil in a Blue Dress, CGC
"Misha"
CH Randenn's Snapshot X CH Lakeridge That's My Girl
DOB 5/15/2016
     Misha came to me from Lakeridge Poodles' Debra Ferguson Jones in 2016. Debbie had been telling me about this lovely litter she had on the ground. I have always loved her bitch "Girly," the beautiful, white multi best in show that many know as "Summer." Girly/Summer's littermate, Lulu, had a beautiful litter sired by a "Yes" or Randenn Tristar Affirmation (her registered name) son. The pedigree was certainly the who's who of poodles! Debbie told me "She might turn blue. Is that ok?" Of course it was fine with me!
     Misha, as we called her after one of my daughter's favorite actors, Misha Collins, flew in, and I went to pick her up. The pup that greeted me from the crate is the same, happy go lucky, bouncy, sweet girl that we know and love today. Misha is just so much FUN! She had a short show career with Sherri Vidrine. I sent her as a pup to a four day show with Sherri, who instantly loved her. She knocked out over half of the points needed for her AKC Championship in just a few weekends with Sherri, had way too much fun at PCA, and finished her championship her first weekend out in the continental trim, earning back to back four point majors the first 2 days of the show.
     Shortly after she finished showing, I "loaned" Misha to my groomer friend Kristin to use for her first grooming competition, and ribbons for Kristin and Misha, along with a strong bond formed. Misha now has 2 families that adore her! She passed testing for her canine good citizen title and is living her best life with Kristin. 
I have plans for a Fall 2019 litter with Tabatha's/NOLA Standards' golden boy,
Lombardi
- CH Le Glorious Lombardi du NOLA's Caniche Rouge. Stay tuned!
Misha has had the following health screens:
*note - not all DNA testing is posted on OFA. Copies of tests are available upon request and will be given to puppy buyers. Some labs are not recognized by OFA and thus are not included on their website. 
NE - carrier (will produce carrier and clear when bred to NE clear male)
Von Willebrand's bleeding disorder - clear by parentage
VGL Diversity testing - done!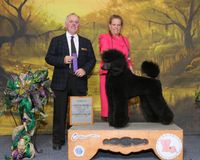 1997/10/17

"Colin" photo credit litilannspoodles.com Best Stud Dog PCA National Specialty 2003 Sire of Multiple Best in Show winners in both the United States and Canada Top Producer of 23 American Champions and Counting

2003/1/31

"Yes" Poodle Variety cover PCA Winner Westminster NS Group Winner

"Treson" Westminster BIS Winner 2000 Photo credit Lakecovefarm.com Check out this awesome video of Treson and handler Dennis Mccoy at Westminster http://lakecovefarm.com/home.html

"Treson" Westminster BIS Winner 2000 Photo credit Lakecovefarm.com Check out this awesome video of Treson and handler Dennis Mccoy at Westminster http://lakecovefarm.com/home.html

"Treson" Westminster BIS Winner 2000 Photo credit Lakecovefarm.com Check out this awesome video of Treson and handler Dennis Mccoy at Westminster http://lakecovefarm.com/home.html

AM CH Ale Kai Diamonds and Pearls

"Treson" Westminster BIS Winner 2000 Photo credit Lakecovefarm.com Check out this awesome video of Treson and handler Dennis Mccoy at Westminster http://lakecovefarm.com/home.html