CH Cadeau Breakfast at Tiffany's
"Tiffany"
GrChB Brighton Undeniable on Fifth, CGCA CGCU TKN, RN X Ch Lakeridge le Cadeau du Muse a NOLA's
DOB 1/13/16 
The breeding that produced our three stars, CH "Lola," CH "Cartier," and Tiffany was one of my most special litters. As usual, I had a hard time letting those pups go! I held on to Tiffany because she was so darn cute, easygoing, lovable, and fancy. When my friend Nancy Laurent, who ran Fleur de Paws grooming shop in Algiers, New Orleans at the time, asked to take Tiffany on a sleep over, I had a feeling she would not be coming back! Nancy has often taken pups for sleep overs to play with her other poodles and entertain her. I just knew, though, that she would have a tough time giving Tiff up. Nancy, a successful creative groomer, had recently started expressing interest in dabbling in the AKC conformation ring. What better pup than Tiff to help her break the ice?  Nancy worked incredibly hard to beat professionals. She and Tiff learned together. Her first 4 point major was a testament to their dedication. They even took 2nd place in a competitive, 14 bitch class at the Poodle Club of America National Specialty - PCA - a HUGE brag! These two have made me a very proud breeder and friend. Tiff is now an AKC champion - completely owner handled and her owner Nancy is looking forward to her very first litter of new stars! We wish them the best.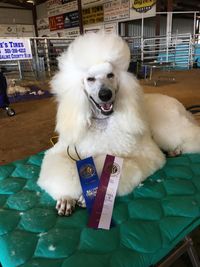 "Treson" Westminster BIS Winner 2000 Photo credit Lakecovefarm.com Check out this awesome video of Treson and handler Dennis Mccoy at Westminster http://lakecovefarm.com/home.html

AM CH Ale Kai Diamonds and Pearls

"Treson" Westminster BIS Winner 2000 Photo credit Lakecovefarm.com Check out this awesome video of Treson and handler Dennis Mccoy at Westminster http://lakecovefarm.com/home.html

CH Grandeur Boogie Back to Targa

CH Escort's Yannick Le Noir

CH Grandeur's Boogie Woogie

CH Blue Skies Deryabar Delightful

CH Davaroc Dassin I'm Dancin (cr)

CH Davaroc Pearls of Wisdom on Fifth

CH Dassin Love That Dance