Dazzlewood Exact Change, CGC  (retired)
(Ch. Luminary Flirtatious Wink x Wildgayle Bedazzle)
"Comet" 3/13/2005 - 9/22/2018

Comet is the greatest poodle that I have ever known! She descends from the famous Wycliffe and Rimskittle lines - some very old poodle breeding, and more recently, Luminary lines (Virginia). It gives me great pride to associate my wonderful girl with Anne Rogers Clark, one of the most famous poodle judges, breeders, and handlers of this century. Five generations behind Comet on dam's side are black-only poodles. Those who have met her have commented on her beautiful head, feet, tailset, pigment, eyes, her perfect health, and of course her darling temperament. She is a serious, "thinking" poodle who will do anything for me, and she is never far away. She was bred to be a beautiful, intelligent, and healthy representative of the breed. She is sturdy and correctly structured with a thick Poodle coat. She is loving and loyal and an absolute joy and privilege to live with. She accepts other animals and people. She is also very active and playful. Her favorite game ever? Fetch!
**In September 2018,  My children and I made the very difficult decision to let our sweet angel gain her wings. She lived a full life and passed with myself, my daughter and my son holding her in our arms and whispering "Good girl" as she slipped away. Our hearts are broken, but we are honored to have shared almost 14 years with the most perfect poodle there ever was. RIP my sweet girl.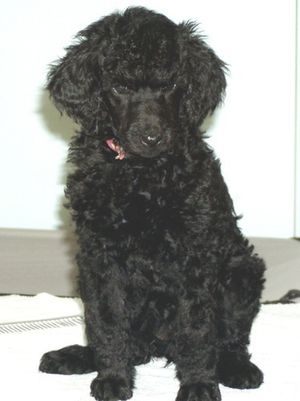 She lived a full life of retirement at my side, as 'granddam' to all of the puppies born at Cadeau. Comet was unique in that she never forgot dog she met. She greetsed mature poodles that she had formerly "diapered" with recognition and gusto! She enjoyed her role as the Matriarch, and willingly took all pups under her wing. They kept her young and full of life! 

 Comet passed the following health screens:
OFA hips – Good

Sebaceous Adenitis (SA) skin test – Normal

Von Willebrands bleeding disorder (VwD) –  clear by parentage

 full Thyroid panel – normal

Canine Eye Registry Foundation (CERF) normal/breeder's option.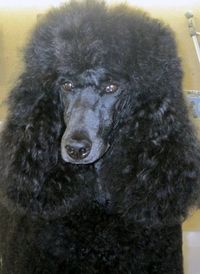 CH. Absolute Fascinating Rhythm (blk)

CH. Wycliffe Quantum Leap (blk)

CH. Martaux Ansel Adams By Jove (blk)

CH. Tiara Ultra Knight CDX (blk)

CH. Wycliffe Hither and Yon (blk)

Bay Breeze Dear Abby (blk)

CH. Martaux Ansel Adams By Jove (blk)

CH. Tiara Ultra Knight CDX (blk)

CH. Wycliffe Hither and Yon (blk)

CH. Rimskittle Quick As A Wink (blk)