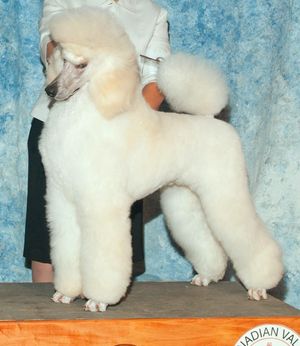 GCH. Donnchada Sweet Talk, CGC
"Armani" (retired)

CHIC #92851
(MBIS, BISS CH. Donnchada Sweet Dreams x CH. Law and Order By Request)

Armani joined Cadeau in early Summer 2011 as a 5 month old puppy. He positively stole my heart on the day I met him. I couldn't wait to get him home with me. He immediately fit right into our pleasant pack.

He is out of the famous MBIS, BISS Ch. Donnchada Sweet Dreams, better known as "Patsy." Patsy is one of the most gorgeous, even-tempered standard poodles that I know. I have loved her since the day I met her and was honored with this young male. He is lovely, sweet and very bright. He was raised here at Cadeau and we are thrilled with him.

Armani started his show career mid-October 2011. He picked up points left and right and finished in style as a 10 month old puppy with his handler, co-breeder, and co-owner Betty Brown of Donnchada Poodles! He was an AKC Grand Champion by October of 2012, just four months shy of his second birthday. 

I am just astounded at his temperament and intelligence. He is the epitome of what a well-bred poodle should be. He is neither shy nor overbearing, well-mannered, and full of life and love. He is mindful of his surroundings at all time, watching and learning. I look at this dog,and he melts my heart every time, just as he did on the day I took him home. 

He is now an AKC Grand Champion and the proud sire of some beautiful puppies with my CH. girl Jacki, namely our girl "Clover" who showed in the 9-12 mo. puppy class at PCA 2014 & fills our home with her silly antics and joyful spirit.

I am forever grateful to Betty Brown of Donnchada Poodles for blessing me with this wonderful dog.
Armani is enjoying his retirement from breeding and showing as the heart dog of a wonderful couple in the Northeast. We keep in touch all of the time, and I believe he is a happy, well-rounded companion. 


Armani's Current Health Screens as Follows:
Canine Eye Registry Foundation (CERF) 2012, 2013, 2015 - Normal

Neonatal Encephalopathy Status - Carrier

Degenerative Myelopathy Status (DM) - Clear

Von Willebrands Disease (VwD) - Clear 

OFA Sebaceous Adenitis 2013, 2015 - Normal

OFA Thyroid Panel - Normal

OFA Hips Final - Good

OFA Cardiac Certification - Normal

VGL Certificate Available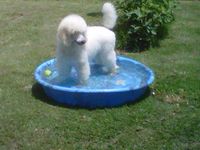 "Treson" Westminster BIS Winner 2000 Photo credit Lakecovefarm.com Check out this awesome video of Treson and handler Dennis Mccoy at Westminster http://lakecovefarm.com/home.html

AM CH Ale Kai Diamonds and Pearls

AM CH Dassin Love is Blue

CH. Donnchada Wizard King

CH. Brighton Morning Glory

AM CAN CH Trelarken's Turn Back Time

AM CH Lake Cove Just for the Joy of It

CH. Blissful By Request (wh)

AM CH Boxwood Belton John

CH. Brighton Morning Glory

CH. Donnchada Wizard King

Cayenne Breakfast at Tiffani

AM CH Donnchada's Calibogue Bear

Cayenne's De Ja Vu Angelace