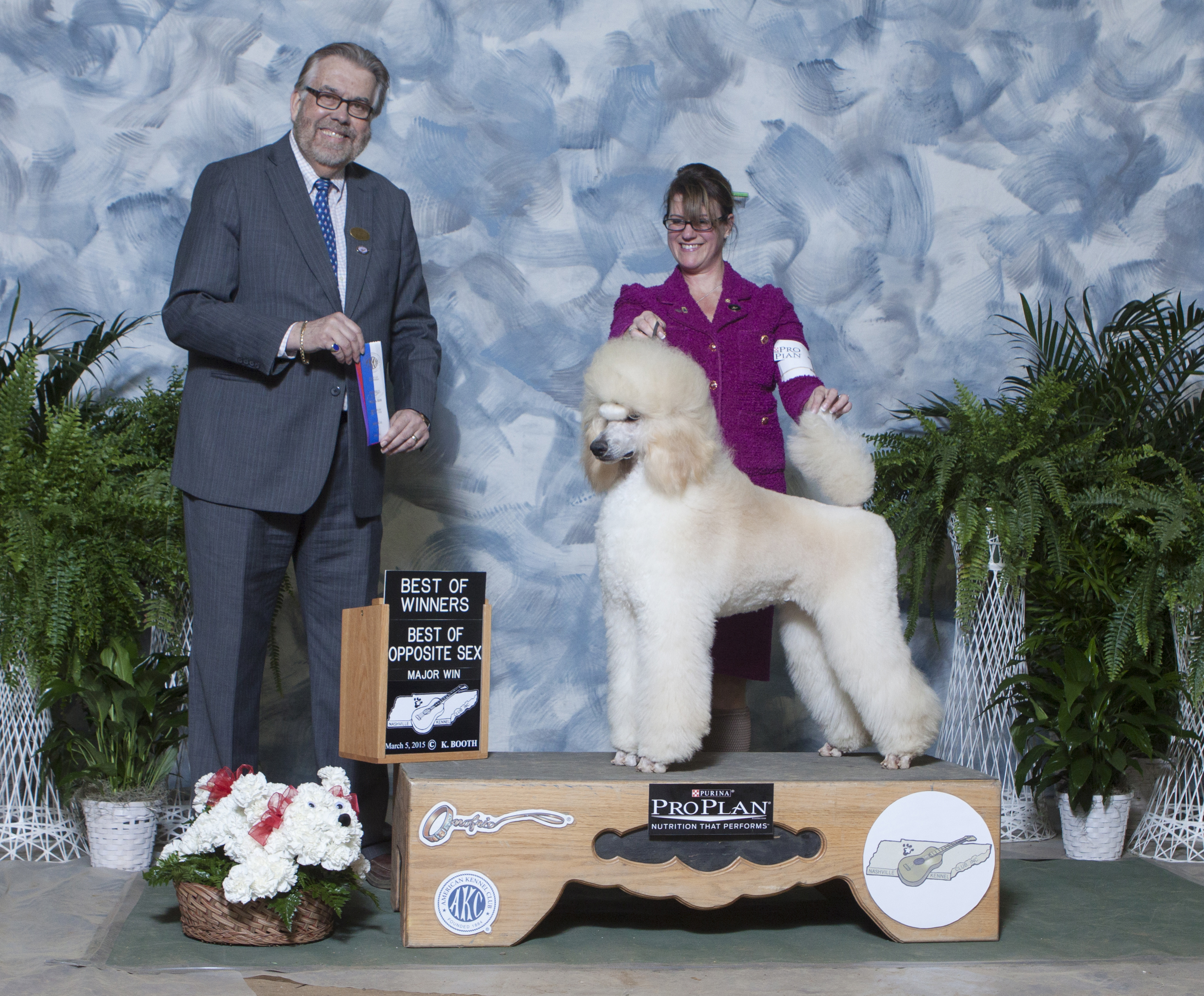 CH Cadeau Goddess of the Dream de NOLA's, CGC
(GCH Le Glorious Lombardi du NOLA's Caniche Rouge x CH Lakeridge le Cadeau du Muse a NOLA's)
DOB 4/28/14

Tatiana was bred by myself and Tabatha Waters of NOLA Standards.She resides at NOLA Standards, but spent her early days at Cadeau. Tatiana was one of 10 puppies in her dam Cali's 1st litter. She was the largest puppy in the litter whom we affectionately dubbed "the Titan." As the puppies matured, it became evident that she was going to be a pick puppy, and as her elegance and grace started to show, she adopted the more feminine version of her puppyhood nickname. She is yet another gorgeous product of her sire Lombardi with her dam's elegant face. We enjoyed her success in the show ring, as she won two 4-point majors as a puppy with handlers Sarah & Matt Perchick. "Tater" as they affectionately call her, finished her championship in style with 2 major wins 3 weeks out as an adult in her big girl trim!
She has matured at approximately 44 lbs & 24" at the withers.
 
Tatiana has passed the following health screens to date:
OFA Link for Tatiana

CERF 2015, 2016 NORMAL
OFA Hips - Good
T4 Thyroid - Normal 
call name = Tatiana (apricot)
La Marka Kaylens Why Not Me

Bonnie Parkers Timberline

CH Grandeur Boogie Back to Targa

CH Escort's Yannick Le Noir

CH Grandeur's Boogie Woogie

CH Blue Skies Deryabar Delightful

CH Davaroc Dassin I'm Dancin (cr)

CH Davaroc Pearls of Wisdom on Fifth

CH Dassin Love That Dance