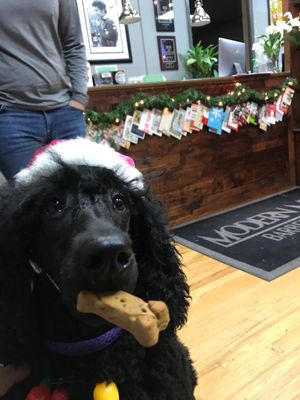 Donnchada Cadeau American Sweetheart, CGC 
"Natalie"
(CH Donnchada Power of the Dream x CH ByRequest Donnchada Jacqueline)
DOB 3/24/2016
     Natalie is one of the sweetest, most cooperative and endearing girls here at Cadeau. She is out of her dam Jacki's 3rd and final litter to "Bentley," a "Patsy" son who is a littermate to my boy Armani. Natalie was raised for her first 8 weeks here at Cadeau, then went to co-breeder Betty Brown of Donnchada as one of the pick pups, along with her brother Nathan. Nathan was shown by Bentley's owner Melissa and finished his championship, but Natalie was held out and eventually offered back to me at 1 year old. Of course I took my girl back! I was initially going to place her in a pet home, but as she matured with me, we worked on obedience, and she easily earned her canine good citizen title. Her pedigree is very nice, and her co-breeder and I decided that we would see how she matured and tested and consider using her in the future. Because of her soft nature, we decided to spare her the AKC show ring. Natalie is an easygoing, social, friendly, and nurturing animal. She cleans everyone's eyes, tolerates all manner of puppy rowdiness, and is a lovely ambassador for the breed. She is very well-mannered and allows strangers large and small to hug her. She is a beautiful girl and stops traffic when I take her out.
Natalie has matured to about 50lbs and is a very deep black. She will produce white/cream offspring when bred to a dog that is white/cream or carries same.
Natalie whelped a large litter by CH Donnchada By Request Suddenly Silver  ("Silver") between April 14-15, 2019.. Black/blue, *possibly* silver, and cream males are available, with approved puppy application.
"Silver" is the son of one of my favorite poodles "Benjamin." Ben is a healthy, solid, and beautifully tempered standard poodle. He was being shown as a special by Betty Brown when I first started showing, and I fell in love with him then. I am very excited about this breeding to one of his sons.
Natalie has passed the following health screens:
OFA hips - Good
CERF Eyes 2018 - Normal
OFA Thyroid Panel - Normal 
NE Status - Clear
VwD - Clear by Parentage
UC DAVIS VGL Diversity Test  - results available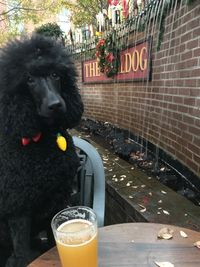 CH. Brighton Morning Glory

CH. Blissful By Request (wh)

Cayenne Breakfast at Tiffani

Filagree Fallen Angel, NAJ, OA