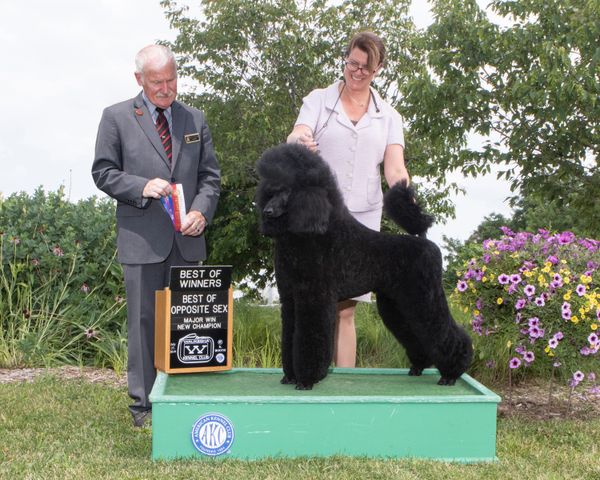 CH Cadeau Sweet Devotion
"Violet"
DOB 08/20/2018
(CH Blackjack Beginners Luck x Saratoga Honeymoon in June at Cadeau)
Violet is my keeper puppy from Juno's 2018 litter to Lucky. What a doll! She is a jet black, beautiful, sweet, cuddly, easy to live with girl who gets along with everybody. She is especially fond of her big sister, Cocoa! Violet has spent a lot of time with my younger brother, being his snuggle buddy and companion. He lost his best friend, our darling Camille last year, just after Violet was born, and he took quite a liking to quiet, loving, sweet-natured puppy. I had Violet shown as a pup, so she could finish quickly and come back to being his buddy.
Violet made her debut in the AKC conformation ring with Jody Garcini, winning her first point and a major while with Jody. Since Jody had a little one starting school, she handed her off to Sarah Perchick who finished her championship in just 3 weekends, winning over a special from the 9-12 puppy class, making Violet my very first home-bred puppy champion! I am so proud of her! Violet is now back home, sleeping in the bed every night, playing with her poodle friends, and otherwise enjoying herself.
Just a couple of weeks after Violet finished, her littermate Damon also finished his puppy championship with Ann Rairigh, winning 3 majors in a row in Canfield, OH. I am SO, so proud of the lucky charms.