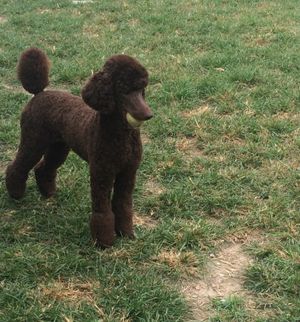 Saratoga Honeymoon in June at Cadeau 
"Juno" - DOB 6/12/2014 (Retired)
(Cadbury's Emperor Augustus x Funtyme Fleur de Saratoga)
"Juno" is from Robert & Jane Demes of Saratoga Poodles in North Carolina and has given me the distinguished pleasure of knowing my first "brownie." It is true and often lamented that brown poodles are mistakenly called "chocolate" by well-meaning fanciers, but all brownie lovers know that browns are the clowns of the poodle world! Juno certainly lives up to her color's reputation. I was first intrigued by the browns several years ago. My dear friend and early mentor Victoria Law of Luminary Poodles in VA was enthralled with her brown poodles. She would jump for joy when she had a litter that resulted in these fun little pups. After several years of owning poodles, I confided to Victoria that I admired browns. She was tickled, and we planned for the day I would be able to take one of her brown pups. Sadly, Victoria was diagnosed with incurable cancer and lost her battle in early 2015. Not far from her in NC were fellow breeders and friends Robert & Jane Demes of Saratoga Standards. They knew Victoria and of my relationship with her. I contacted them for a brown puppy and was able to reserve one of the girls born during the "Honey" moon in June of 2014. I look forward to incorporating this unique bloodline into Cadeau Poodles. 
Juno has matured to approx. 45lbs

Juno was bred to CH. Magic Hour's Franchise Prodigy - "Rod!" and gave me 2 precious little "brownie bites on 11/10/17." "Cocoa" is here to stay as our keeper pup from that litter. Tootsie went on to a pet home & is now called Bella. 
Juno was bred to CH Blackjack Beginner's Luck - "Lucky" in June 2018. Black and brown pups arrived 8/20/18. All pets have been adopted and we look forward to show picks Violet and Damon making their cameos in the ring in 2019.
Juno is now retired after 2 adorable litters. I am excited to move forward with her babies, Cocoa, Violet, and to see Damon mature from his co-owner's home in KY. 
Juno has passed the following health screens:
OFA Hips - Good
*OFA Thyroid - Normal
*CERF (eyes) - Normal
*OFA Cardiac - Normal via echocardiogram 
Link to Juno's OFA page
Greekmyth Sweetness 'N Light