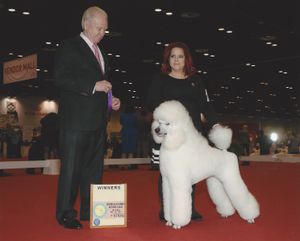 BOSS GCHB Cadeau's Cartier Je Reve Mercredi du NOLA
"Cartier"
GCHB Brighton Undeniable on Fifth, CGC RN CGCA CGCU TKN X CH Lakeridge le Cadeau du Muse a NOLA's
DOB 01/13/16
Cartier was a standout in the Cali x Liam since day one. He was the biggest puppy, and he had the biggest personality to match. When Crystal, owner of A Cut Above Salon and Spa for dogs, reached out to me for a white male show puppy, I mentally matched them. She was searching for her first show puppy, and she wanted to owner handle - meaning, she wanted to brave showing him on her own for his AKC championship. This is NO small feat. An owner handler has to have an outstanding dog, groomed to the nines, and trained to perfection to compete with professional poodle handlers. Many (myself included!) drop out early on and succumb to using a pro- no shame in that- as it takes TRUE dedication and grooming talent, along with training ability, to have that kind of success, lest you are digging a large money pit lined with disappointment. Crystal has clients who own Cadeau puppies, so I was touched when she came to me for this huge leap into the show world. I couldn't personally mentor her, but I steered her in the right direction with handler Sherri Vidrine, and Cartier's successful sire's owner handler, Tammy Breckenridge, along with her mentor Michele Polito. They graciously took Crystal under their wings, and you see the result pictured above! Crystal now has her first Champion poodle, and tons of experience to boot! I asked Crystal to write a bio for Cartier. She said the following:
"Cartier is by far the best dog I have ever owned! His temperament is outstanding, he is loyal and caring. He is full of life and knows no strangers, dog or human. His favorite toy is every toy! He has a great collection of toys. I have been told time and time again how absolutely beautiful he is and how lucky I am as a new owner handler. I could not agree more, I can only hope that all my future dogs will be half as amazing as Cartier." 
I am SO very proud of them. 
"Treson" Westminster BIS Winner 2000 Photo credit Lakecovefarm.com Check out this awesome video of Treson and handler Dennis Mccoy at Westminster http://lakecovefarm.com/home.html

AM CH Ale Kai Diamonds and Pearls

"Treson" Westminster BIS Winner 2000 Photo credit Lakecovefarm.com Check out this awesome video of Treson and handler Dennis Mccoy at Westminster http://lakecovefarm.com/home.html

CH Grandeur Boogie Back to Targa

CH Escort's Yannick Le Noir

CH Grandeur's Boogie Woogie

CH Blue Skies Deryabar Delightful

CH Davaroc Dassin I'm Dancin (cr)

CH Davaroc Pearls of Wisdom on Fifth

CH Dassin Love That Dance