CH. By Request Donnchada Jacqueline
"Jacki" (retired)
(CH. By Request Donnchada Danielle x MBIS, BISS CH. Aleph American Idol)
Canine Health Information Center (CHIC) #86620
Jacki came to Cadeau in December of 2011. Having met her mother, Dani, I was excited at what this girl could bring to my lines. She is small, powerful, quick, and happy. Her conformation is very nice, with a refined bone, lots of body, good underjaw, short back, powerful rear assembly and a lovely tail set and carriage. She is sired by the exceptional International CH. Aleph American Idol "Simon" who took Reserve Winners Dog at PCA with Betty Brown as a
puppy, 
 Best of Opposite Sex at PCA 2012 with his Swedish handler Charlotte Sandell, and most recently
Best in Show, Best of Breed
 at the Poodle Club of America Nat'l Specialty in 2013. Simon is described by his handler as "a once in a lifetime dog." 
Although I was hesitant to take a poodle home as a maturing adult and not from a puppy, I decided to give Jacki a home and see how she fit in. She is very willing to please me, always coming when I call her and eager to work with me. She gets along very well with my children and other animals. She has really matured into a great house dog, is very trainable and very affectionate.
Jacki is the proud dam of our "Clover." She passes on her fun-loving spirit and affectionate demeanor to her sweet offspring. Her offspring are cherished members of the family as well as flashy show dogs full of confidence.
Jacki has color tested for positive for cream & has had the following health screens: 
OFA Final Hips  -  Good

CERF Eye Exam 2012, 2013, 2015  -  Normal

Neonatal Encephalopathy (NE) - Clear

Von Willebrands Disease (VwD) bleeding disorder - Clear

OFA Cardiac - Normal

OFA Degenerative Myelopathy (DM) - Carrier Status *Will produce clear or carrier when bred to clear - Jacki will not be 

bred to a DM carrier)

OFA Thyroid Panel - Normal

OFA Sebaceous Adenitis Skin Punch - Normal
Link to Jacki's OFA Page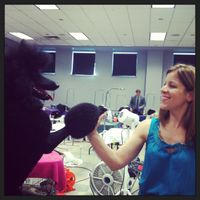 CH. Barbican C'est Magnifique

Filagree Fallen Angel, NAJ, OA

CH Syrena Filagree Fabled, AX, AXJ

CH. Donnchada Wizard King

CH. Aleph's Sophie's Choice

CH. Lake Cove Grabbing the Spotlight TP

CH. Brighton Three Wishes

CH. Blissful By Request (wh)

CH. Brighton Morning Glory